Skip to main content
In April 2022 we reached 200 employees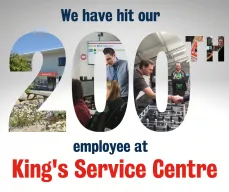 In April 2022, we recruited our 200th employee at King's Service Centre. This is a significant development as we expand our services in support of teaching and research within King's College, London. We've come a long way since opening in 2015 with just 18 staff …read on to find out about what we do and our plans for the future.
Here at King's Service Centre (KSC) we provide a range of professional services including IT, HR and Estates service management. These ensure the smooth running of services for our students, staff and researchers of King's College London 24 hours a day, 7 days a week, 365 days a year.
Not only that, we also host a range of other teams serving King's – from Natural, Mathematical and Engineering Sciences to the provision of essential digital skills by our colleagues within Organisational Development. Our technology team are notably significant, providing a range of technology expertise spanning Infrastructure, Platforms, Cyber Security, Ludico games development, Virtualisation and more.
Who we are
Established in 2015, King's Service Centre provides contemporary, highly skilled career opportunities to Cornwall. We are passionate about recruiting local talent, through our Apprenticeship opportunities which are open to all ages as well as heavily investing in the training and development of our current staff.
With our offices based in Quintdown Business Park near Newquay, we're in a fantastic location, being 5 minutes from the beautiful Cornish beaches and all the local amenities that Newquay town has to offer.
KSC also has an active social committee providing several fun events throughout the year, as well as the sustainability committee and the team regularly attend local beach cleans and organise fundraising events. Colleagues benefit from free on-site parking, excellent technology discounts, use of our Cycle to Work scheme, bike racks, showers and eligibility for the NUS card. Oh and free tea, coffee and squash all day!
We currently have a number of opportunities available and welcome applications from skilled professionals who would like to join our team. Click here to see our current vacancies, or you can send in a speculative CV to hello@ksc.ac.uk.